As we've been discussing the benefits of front wheel drive recently, we had an unsolicited story come our way. Joseph Maimone lives in NC and is a published author, radio contributor, and has a following on YouTube. He sustained a spinal cord injury from a skiing accident in 2004 and has been in a wheelchair ever since. This is his story of how standing has improved his health and lifestyle. Thanks to Todd Dewey, ATP with Numotion for connecting us with our friend Joseph to share his story.
---
Stand Tall
Stand tall! That means at least as much to me as it does to you. Probably more. I can hardly even read the studies on the damaging health effects of a sedentary lifestyle. I sit on my ass way too much! This is because I was paralyzed in a skiing accident in 2004 and there is only so much that I can do about it.
For 10 years I zipped around in a Godsend of power wheelchairs, active in my community, finishing my Bachelor's degree and working all the while. Having mastered the art of knuckle typing, I can do just about anything on the computer. I had a great chair but it couldn't stand. I felt pretty good, but that was in my twenties. Now I'm in my thirties, and after over 15 years of decreasing bone density and slowing metabolism, I've noticed the difference. I now have my Master's degree and into my second career stage. I'm a published author, a radio contributor, and a YouTuber, but I have to take my health more seriously.
I have been blessed with another Godsend of wheelchairs, one that stands me up straight! For five years I saw an improvement in my spinal alignment, increase bone density, and was free from bladder infections. For five months my standing chair wouldn't stand due to faulty sensors and aged actuators. In that brief time, I noticed increase spasticity, weight gain despite super healthy eating, deteriorating hip density, frequent clammy sweating, the formation of gallstones, and a dangerous bladder infection. The human body is simply not designed to be sitting all the time.
Thanks to a diligent team and a very special insurance situation, I can stand again with the latest generation of standing power chair. I have noticed a significant improvement in my health: less spasticity, less clammy sweats, less abdominal discomfort, increased bone density, and better peace of mind. I can only wonder how much better my physiology would be if I had been set up in such a vehicle from my early twenties.
As I'm writing this, others are joining the community of paralytics. Perhaps someone you know, maybe a family member, maybe you. I promise it could happen to anyone at the most unexpected time. Soldiers and car riders are the most likely to suffer a spinal cord injury. Hardly anyone has the insurance situation I have. The price tag of a chair like mine is beyond the reach of all but a few. It is time to change that. To stand is to have better dignity. To stand is to protect against deteriorating health and bigger medical costs. It is preventative medicine that is well worth some subsidizing. I won't list all the figures and studies. This is my own little story, but it can be part of your story.
---
Like Joseph, we know that standing should never be considered a "luxury" for full time wheelchair users. We want payors to hear more of these stories and continue with research proving the medical benefits of standing and the long-term cost savings. Unfortunately, in most states currently standing is not funded. Check back soon as we will hear from our funding specialist Jim Stephenson who will explain the why and how of funding for standing wheelchairs. 
---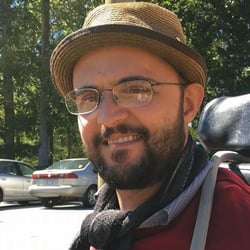 Joseph Maimone
Joseph Maimone lives in North Carolina and is a published author, radio contributor, and has a following on YouTube. He sustained a spinal cord injury from a skiing accident in 2004 and has been in a wheelchair ever since. Connect with Joseph on LinkedIn or check out his YouTube page.