This is our first blog in the series Maintaining Your Ride.
---
We maintain so many things within our lives. We take care of ourselves and our homes, and we regularly maintain our vehicles and bikes, so why would wheelchair and seating components be any different? Wheelchairs and seating components are high performance pieces of equipment that need to be maintained. In this series we are going to go over specific ways to clean and maintain your power wheelchair, manual wheelchair, and seating & positioning products. As always, please refer to your owner's manual specific to whatever piece of equipment you are using. The owner's manual is a great resource that contains information specific to your equipment. If you have misplaced your owner's manual, most manufacturers have digital copies that are available online for download. You can find Permobil owner manuals here.
Cushion Care and Maintenance
Our first topic of discussion is cushion care and maintenance. Cleaning is the first step in cushion care. Please wear the appropriate personal protective equipment depending on what chemicals and/or cleaners you may be working with. Cleaning, for most of us, is very familiar. Essentially cleaning is freeing the object (in this case a cushion) from dirt or pollution. Disinfecting is the second step of cushion maintenance and is a separate process. Cleaning and disinfecting are sometimes talked about as if it is one thing, but truly it is not. Disinfecting is its own process and is freeing an object from infection and/or potentially harmful microorganisms, viruses, etc.
In light of what is going on in the world with the COVID-19 pandemic, this online resource from the EPA lists out approved disinfectants for use against SARS-CoV-2, the virus that causes COVID-19. There are many different cleaners that come in different forms, so this list will help you understand what type of disinfectant it is (such as a wipe), or if the disinfectant is dilutable or needs to be used full strength. This resource also tells us how long the disinfectant needs to stay on the product. This is an important piece of information because contact time varies widely by disinfectant from seconds to as long as 10 minutes in the example below. It could be difficult to keep a disinfectant on a product for that long, while a disinfectant that works in seconds could be more feasible depending on what you're disinfecting and where you're disinfecting it. Keep in mind this is a small representation of the entire list of disinfectants.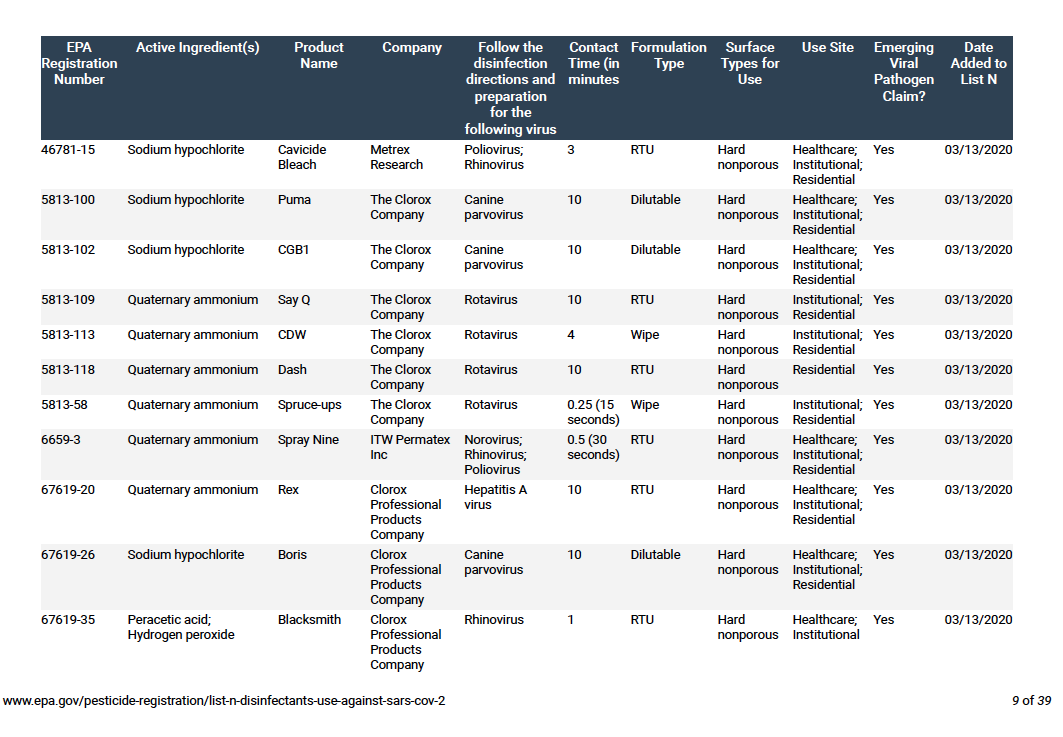 ---
Cleaning and Disinfecting a Cushion
Most seating products on the market have a cover, and we're going to be looking at cleaning a ROHO cover specifically. Click here to download a PDF version of instructions on how to clean a ROHO DRY FLOATATION cushion and cover. Again, consult the instruction manual for whatever product you're using, but the instructions will likely be similar. First step is to remove the cushion from the cover. If you have hook and loop fasteners attached, remove them from the cover so you don't cause any fabric damage. After having removed the cover from the cushion, machine wash the cover on the gentle cycle in cold water with a mild detergent or wash by hand with neutral detergent. Tumble dry on low or no heat or hang to air dry. These are pretty standard instruction for washing a cushion cover. For disinfecting the ROHO cushion cover, after the cover has been cleaned, machine wash it on the gentle cycle in hot water with mild detergent, or hand wash in warm water with a mixture of 9 parts water to 1 part bleach. Rinse with fresh water, and tumble dry on low or no heat, or hang to air dry.